22/9/2008 – Hanoi
Arrived Hanoi at 9.50 pm (Vietnam time) with flight AK762. Proceed to a local Chinese Restaurant for dinner. After dinner, proceed to a hotel which is located at ancient street, Phuc Loi Hotel. This hotel is damn small & squeezy. According to Small Bear (name of tour guide, translated from his Chinese name, 小雄) all the shops and hotels at Hanoi city can only being built not more than 3 m square feet in length, that's why the room is so squeezy.
23/9/2008 – Hanoi / Halong
This was the first breakfast which I had in a hotel that gave me so SHOCK. It does not serve buffet breakfast but only French bread with jam & coffee. And when you told the waiter that you would like to have French bread for breakfast, he will suddenly "disappeared" and later on when you saw him again, you will found him carry a bag of French bread which he bought from the bread seller at the street near by the hotel. I really doubt about the cleanliness of the bread… …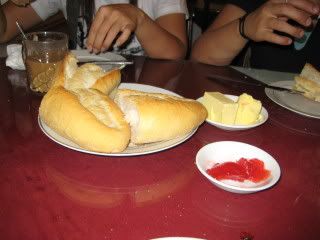 After having breakfast at hotel, we had a walk at the street and found this interesting food – Vietnamese style Chee Cheong Fun. The taste was not bad. VND20,000 per plate.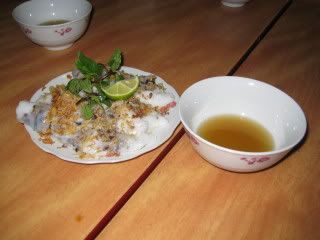 9.30 am (Malaysia time is 10.30 am), we started our Hanoi city tour. (This is another SHOCK for me that started the tour at 9.30 am??) The city tour took only 1 ½ hour. Places that we visited including
1)
Ba Dinh Square
– The place where Vietnam people declared their independent here. It just like Malaysia's Merdeka Square.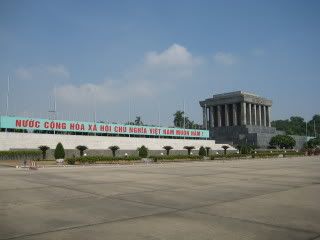 2)
Ho Chi Minh Mausoleum
– Just like President Mao Zhe Tong at People Republic of China, President Ho's body was kept in a crystal coffin for the viewing of the visitors. But unfortunately, it was closed to public due to???? (a reason even Small Bear couldn't answer)
3)
Ho Chi Minh residence
4)
One Pillar Pagoda
– A unique temple which built using only "one pillar".
5)
Temple of Literature (Ven Mieu)
– A temple which pray for Confu Tze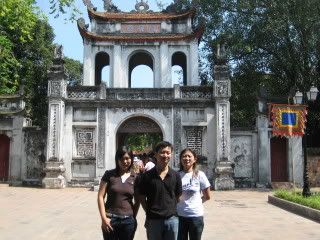 Taken our lunch at 11.30am then proceed to Halong by van. The journey took about 3 ½ hours as there is no highway at Hanoi and the driver can only drive at 60 km/h.
Arrived Halong at 4.30pm. Checked in to Blue Sky Hotel. The hotel here was much more comfortable and bigger compare to hotel at Hanoi.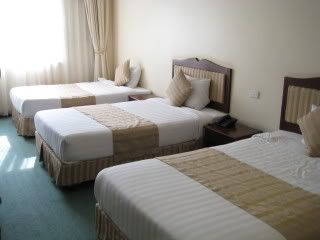 We went to have our first cup of "drip drip coffee" here. Damn thick but damn yummy.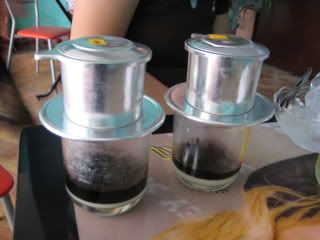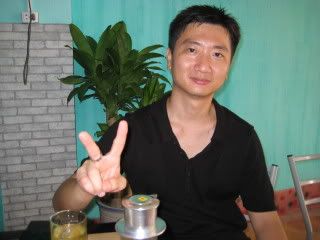 We had our dinner at 6.15pm. After dinner, took a walk to Ha Long night market (same like Malaysia's pasar malam). Selling all types of souvenirs.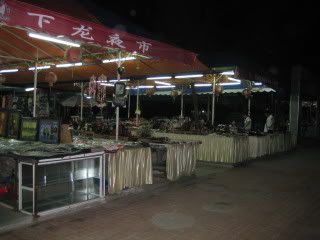 ** A useful tips, if you are to purchase some souvenir, please do it here as all the things sell here are cheaper than 36 ancient streets at Hanoi and some of the souvenir sell here you can't even find at Hanoi.
After shopping, went to "enjoy" a Vietnamese style message which cost USD20 per person. Damn pain and so uncomfortable. Still feel that Thai massage is the best.
24/9/08 – Halong / Hanoi
Woke up at 6.00 am. After breakfast, I prepared for boarding to the boat to visit the "MAIN DESTINATION" – Halong Bay. Felt so excited and can't wait for it.
HOWEVER
..
..
..
..
..
..
The visit to Halong Bay was "destroyed" when received a new from Small Bear
"All boats are prohibited from sailing out to Halong Bay today and tomorrow as Halong Bay is expecting a typhoon in the afternoon."
Oh, My God!!! Can you believe it?
I really couldn't take it! I stood at the jetty and refused to go back. I really couldn't accept it. After 30 minutes struggling there, I knew that it's already a fact, so I just took a picture from jetty and left with "broken heart"… …
P/S : I left a box with a question mark as reserve for the pictures of Halong Bay. I will fill the box later. For sure!
Small Bear was so kind. He knew that I was so upset and he told me he will try to go to the local restaurant which has a connection with the jetty's manager to check up weather there is anyway to get a "illegal boat" to take us for a at least 2 hours cruise to Halong Bay (the normal cruise is 4 hours) but the answer still was a disappointment. So, we have no choice but really have to leave Halong Bay now… …
p/s : thanks to Nancy who sent me an encouraging message when I was so "down",
"DON'T BE SO DISAPPOINTED. IN THE BAD THING ALWASYS GOT GOOD THINGS COME"
Our plan was replaced by a visit to the "Stone Village". What a boring replacement plan!
Because of "no choice", as the sales girl was so passionate in pushing and persuading me, so, I bought these.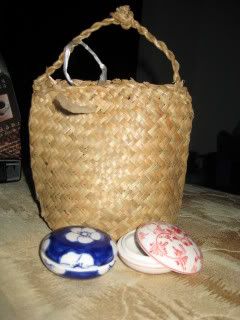 I knew that I am not going to use this, so girls, whoever wants this, please make your reservation here. According to the sales girl, you can put rings and other accessories inside.
After this, we supposed to visit to silk village but I told Small Bear to cancel the boring trip. So, we were sent back to hotel for a short rest.
We changed our hotel when we returned to Hanoi. We checked in to Khach San Khan Quang Do hotel. This time the hotel was much wider and comfortable. (And it served buffet breakfast, hehe)
3.30pm – It started to rain. (Typhoon approaching??) We were brought to do our shopping at 36 ancient streets. We bought some souvenirs here, especially a sets of 7 pieces water puppet which cost VND460,000 at all.
We also had our first bowl of famous Vietnamese beef noodle soup and our second cup of "drip drip coffee". It cost VND40,000.00.
Then, we visited to Hoan Kiem Lake(还剑湖). According to the legend, there was once Li Huang Ti borrowed a magic sword from the tortoise to protect and build his dynasty. Later on when Li Huang Ti's dynasty was settled down, the tortoise asked back the magic sword which he lent to Li Huang Ti at this lake.
There is a temple that you can find the tortoise.
5.15pm – Proceed to Thang Long Water Puppet Theatre to watch the famous water puppet show. The show was so unique and nice.
After dinner, we went back to hotel.
Small Bear told me don't be too upset as tomorrow we will be visiting to Halong Bay on land. Hmm….sounds interesting. Ok, I just put my hope on tomorrow and wait for the good things to come, hopefully!
25/09/08 – Tam Coc / Bich Dong
8.30 am – Started our journey to Tam Coc. The journey took about 2 ½ hours. We arrived at 11.10 am. It was a rainy day since yesterday.
We reached Tam Coc jetty around 11.00am. We have to take a small boat which rowed by a villager to start our tour to on land Halong Bay because the water here is too swallow and it won't allow a big boat to sail in. Once the boat started to move, I staled there. The scenery was so beautiful. I couldn't believe my eyes. Isn't it Halong Bay? My camera couldn't stop from snapping the beautiful scenery. Now only I understand why it is called Halong Bay on land!
We were crossing 3 caves. The first cave is 127m long, the middle cave is 70m long and the last cave is only 40m long.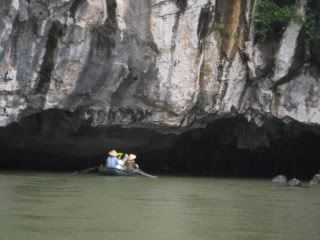 The 1st cave which is 127m long
On the way out from the 1st cave
The 2nd cave which is 70m long
You also can see one unique boat rolling technique here. What's that? Find it out with this photo.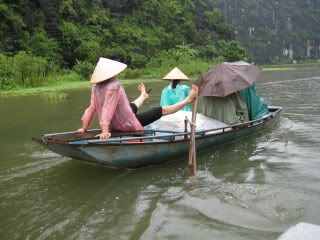 Boat rolling by using leg!
The tour took about 1 ½ hours.
Once I landed, I told Small Bear that I felt so regret that taking this tour. I shouldn't have following this tour as the Halong Bay on land already as beautiful as this, how about the scenery at Halong Bay? For sure it's much more beautiful than here!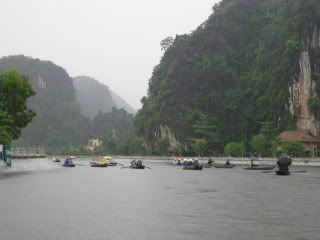 He smiled and told me that actually the scenery here and Halong Bay is almost the same, just one is located at sea and another one is located at river. And the most important thing is you don't need to worry about typhoon here.
What the hell!
After that, he was telling me that Halong Bay has declared as a natural heritage by UNESCO but Halong Bay on land still haven't being declared by UNESCO.
I told him, it will, and very soon, it will. Just wait and see… …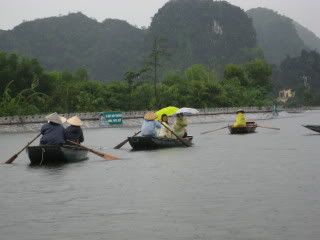 P/S : After the visit to Halong Bay on land, it made me feel more confidence that I'll be back to Hanoi to visit Halong Bay later!
Then, we were brought to have our lunch at a restaurant nearby. I was shocked when knew that I was being served with a deep fried rabbit meat! The meat just taste like pork.
Rabbit meat
2.30pm – We visited to Bich Dong, a temple which built "inside" the mountain.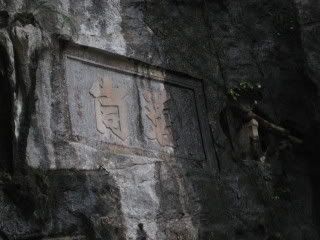 It is built in 3 separated parts. The first temple is built on land and the 2nd and 3rd temple is built "in" the mountain.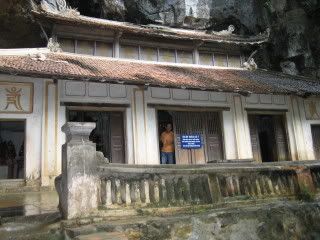 To visit the 2nd and 3rd temple, we have to climb up some staircase just like how we did when we want to visit temple at Batu Cave of Malaysia.
Since it was a rainy day, the stair case was so slippery and Small Bear advised us not to climb to the top of the temple. You know, all the while I am a "good student" and will never disobey instruction, so, we really just climbed up to the middle of the temple, snapped a photo and walked down.
2.55pm – We went back to Hanoi.
6.30pm – In Hang Zhuo, China, there is a Xi Hu (西湖), but at Hanoi, there is a Xi Hu too. The only different is you can't find Madam White and Xu Xian here.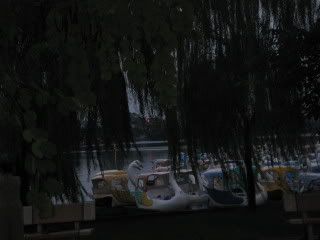 We had a buffet dinner which cost VND115,000 per person at a nearby restaurant.
26/09/08 – Malaysia
After breakfast, we were sent to airport and took AK761 flight to fly back to Malaysia at 9.50 am.
Hanoi, I will be back!
Tour Guard-Small Bear & Driver at Hanoi Airport
Souvenirs From Hanoi